VÝZVA #MISSKOMPOST
PO 4 LETECH JSME OBNOVILI
SOUTĚŽ MISS KOMPOST
Soutěž Miss Kompost – tedy jakési mistrovství republiky v kompostování, se kterým jsme začali v roce 2005, ukázalo, že kompostování má u nás nejen tradici, ale i další skrytý potenciál. Prastará recyklační metoda přitom nabyla během třinácti ročníků soutěže řady podob. Zatímco ze začátku šlo zpravidla o individuální měření sil mezi klasickými zahrádkáři, postupem času se začaly objevovat i inovativní experimenty s vermikompostováním a v posledních ročnících převládly kolektivní snahy o společné kompostování ve školách a v městských komunitách. Co ale bylo nejzábavnější – za každým kompostem a kompostérem, za každou hromadou stál příběh. Za celou dobu soutěže jsme jich nasbírali přes pět set a ty nejzajímavější rádi sdílíme. Zároveň jsme na půdorysu původní devadesátkové soutěže, která už je dnes trochu retro, vytvořili novou, současnější výzvu, k níž se právě teď můžete přidat i vy!
Po čtyřleté odmlce tu je soutěž Miss Kompost s novou chutí a v jiné podobě. Původní koncept, který spočíval v tom, že si lidé mezi sebou ukazovali krásné a krásnější komposty a kompostéry, naplnil své poslání a dnes už nikdo nepochybuje, že kompostovat lze na mnoho způsobů a vždycky je to účelné a užitečné.
Za tu dobu, co se popularizaci třídění bioodpadu a kompostování věnujeme, jsme se potkali s řadou lidí, kteří pro naši věc dokázali udělat mnohem víc než to, že si do zahrady pořídili kompostér. Doslova by se dalo říct, že místo aby produkovali ODPAD (přesněji bioodpad), začali vytvářet DOPAD. Jejich aktivity daleko přesáhly (a přesahují) rámec jejich vlastních záhonů, jejich nadšení přerostlo soukromé ploty, aby inspirovalo nás ostatní a dalo vyrůst dalším kompostářům. Dokázali regenerovat nejen půdu, ale i ovzduší a společenské klima. O těchto lidech i o nejinovativnějších a nejzajímavějších počinech z historie Miss Kompost si pod hashtagem #MISSKOMPOST můžete během následujících měsíců číst na našich sociálních sítích (fb a instagramu) i tady na webu.
Začátkem června jsme spustili výzvu, díky níž se můžete k našim kompostovacím hrdinům připojit i vy! Stačí, když nám dáte vědět Proč a jak kompostujete? a Co pro vás kompostování znamená? a zkusíte pořídit související fotografie.
VZKŘÍŠENÍ MISS KOMPOST?
KOMPOST FEST 2022!
Výzva vyvrcholila 5. listopadu ve Skautském institutu Rybárna Kompost Festem, který se tu konal poprvé, a ukázalo se, že je to (zvlášť za příznivého počasí) dobrá volba. Během celého dne se tu děla řada věcí, které měly jedno společné – všechny nějakým způsobem souvisely s kompostováním. Pozvaní hosté i náhodní kolemjdoucí si tu od časného dopoledne mohli vyzkoušet zážitkovou úkolovku pro děti Hurá do hlubin kompostu, díky níž se (děti i dospělí) nořili do tmy, aby prozkoumali kompost všemi smysly a zjistili jak to, že je půda živá. V upcyklační dílně se ,,dveře netrhly" a po celý den odtud proudili šťastní noví majitelé trik s Kompost motivem, aby na vlastní hrudi šířili dál slávu kompostování. Po poledni mohli zájemci shlédnout praktickou ukázku založení vermikompostéru, po níž následovala přednáška Petra Diváckého, který zvítězil v Miss Kompost v roce 2015. Od té doby se jeho žížalí chov poněkud rozrostl, takže dnes zpracovává 450 tun matolin ročně a vyrábí certifikovaný Slovácký vermikompost. Dalším vzácným hostem byl vítěz Miss Kompost 2018 Ondřej Šohaj, který mluvil o tématu víc než aktuálním – o možnostech využití biomasy k vytápění. Odpoledne rozbilo svůj stan za Rybárnou u řeky kočovné divadlo pro děti, aby odehrálo představení Vivat Kompostela, napínavý příběh o putování jádřince Rubína zpátky domů k mamince jabloni. Pozdní odpoledne patřilo sérii kratších přednášek a projekcí. Po celý den byla ve foyer Rybárny k vidění jednodenní výstava fotografií Příběhy kompostu, která představila nejzajímavější kompostáře letošního ročníku. Akce pomalu doznívá a organizátoři už začínají přemýšlet nad dalšími vyhlídkami vzkříšené Miss Kompost.
První Miss Kompost v historii – Alena Ševčíková, držitelka titulu z roku 2006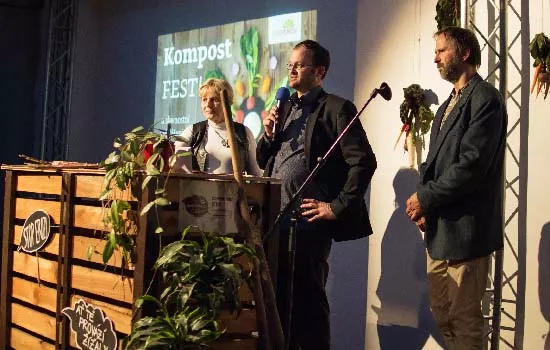 Kompost Fest – vyhlášení vítězů soutěže Miss Kompost 2018 ve studiu Alta
Slunečné počasí nám umožnilo udělat workshop Založení vermikompostéru venku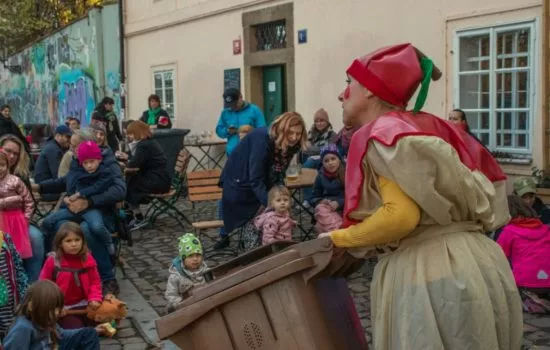 Nejmenší kompostáři ocenili divadelní představení Vivat Kompostela
Chcete vědět, co se děje u nás v Ekodomově?
Přihlaste se k odběru newsletteru!